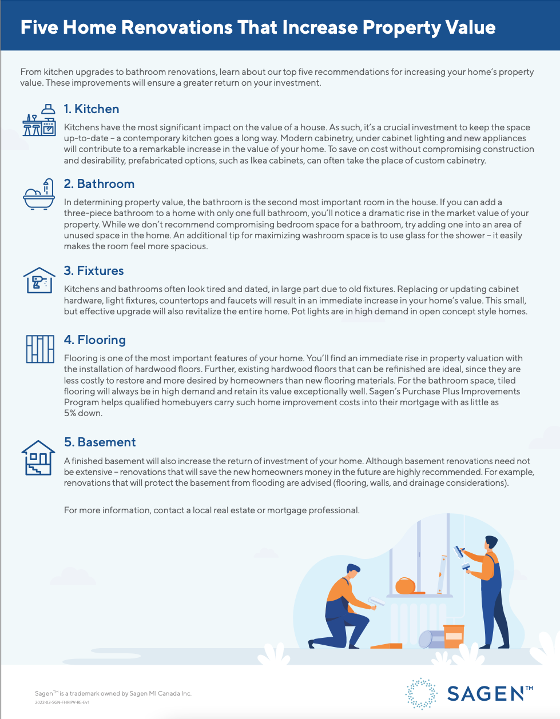 From kitchen upgrades to bathroom renovations, learn about our top five recommendations for increasing your home's property value. These improvements will ensure a greater return on your investment.
1. Kitchen
Kitchens have the most significant impact on the value of a house. As such, it's a crucial investment to keep the space up-to-date – a contemporary kitchen goes a long way. Modern cabinetry, under cabinet lighting and new appliances will contribute to a remarkable increase in the value of your home. To save on cost without compromising construction and desirability, prefabricated options, such as Ikea cabinets, can often take the place of custom cabinetry.
2. Bathroom
In determining property value, the bathroom is the second most important room in the house. If you can add a three-piece bathroom to a home with only one full bathroom, you'll notice a dramatic rise in the market value of your property. While we don't recommend compromising bedroom space for a bathroom, try adding one into an area of unused space in the home. An additional tip for maximizing washroom space is to use glass for the shower – it easily makes the room feel more spacious.
3. Fixtures
Kitchens and bathrooms often look tired and dated, in large part due to old fixtures. Replacing or updating cabinet hardware, light fixtures, countertops and faucets will result in an immediate increase in your home's value. This small, but effective upgrade will also revitalize the entire home. Pot lights are in high demand in open concept style homes.
4. Flooring
Flooring is one of the most important features of your home. You'll find an immediate rise in property valuation with the installation of hardwood floors. Further, existing hardwood floors that can be refinished are ideal, since they are less costly to restore and more desired by homeowners than new flooring materials. For the bathroom space, tiled flooring will always be in high demand and retain its value exceptionally well. Sagen's Purchase Plus Improvements Program helps qualified homebuyers carry such home improvement costs into their mortgage with as little as 5% down.
5. Basement
A finished basement will also increase the return of investment of your home. Although basement renovations need not be extensive – renovations that will save the new homeowners money in the future are highly recommended. For example, renovations that will protect the basement from flooding are advised (flooring, walls, and drainage considerations).
For more information, contact a local real estate or mortgage professional.